10 Instagram accounts every nurse should follow!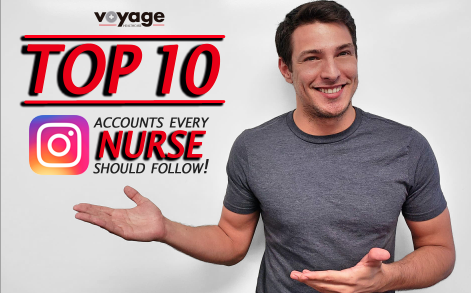 Working as a nurse is a busy, fast moving occupation that is both rewarding and challenging. The crazy dynamic can be difficult to understand for someone who doesn't live it from day to day. Getting connected with people on social media is the best way to find others who understand where you are coming from.
Here are 10 Instagram accounts every nurse should follow! Find other nurse that understand exactly what its like to do what you do.
Nurse Humor & Entertainment
https://www.instagram.com/nurseabnormalities/
If you want to feel like someone understands where you are coming from with the odd situation of a nursing career, follow @nurseabnormalities. Danielle is pursuing a Doctorate of Nursing Practice and currently works in a general ICU. Her Instagram page will show you the joys as well as the uniqueness of working as a nurse.
https://www.instagram.com/nursesofinstagram/
Go to @nursesofinstagram to laugh the stress away with funny memes that are way too honest about what you REALLY experience on the daily as a nurse. If you're not sure how to show people what its like to be a nurse, maybe this page can explain for you.
https://www.instagram.com/snarkynurses/
Snarky Nurses keeps you entertained with both relatable memes of some scrub life struggles that all nurses experience. From the @snarkynurses page you can find their blog for more hilarious content.
https://www.instagram.com/nursesonja/
Sonja Schwartzbach shares motivational messages and hysterical posts about her personal experiences as a CTICU RN. She has so much to share with you that she decided to put it into her book "Oh Sh*t, I Almost Killed You!"
Personalities
https://www.instagram.com/nurse.blake/
Memes are great but if you want to see some funny video content, check out @nurse.blake for comedy sketches about the realities of nurse life.
https://www.instagram.com/latinurseteresa_/
Find a combination of glamor, fitness, and nursing on @latinurseteresa_ page. Teresa's fitness post will help you get motivated to face the day and you can also find links to YouTube videos and blogs about what she's learned from being a travel nurse.
Travel Nursing
https://www.instagram.com/voyagehealthcare/
Connect with @voyagehealthcare to stay up to date with job openings in travel nursing. Don't miss out on amazing opportunities and keep an eye out for giveaways offered on their page.
Educational
https://www.instagram.com/medschool_life/
Whether you are still in med school or long removed, @medschool_life is putting out humorous content on their page that would make anyone laugh. Find motivational messages for pushing through classwork or laugh at relatable memes about homework struggles that you've escaped.
https://www.instagram.com/theresilientnurse/
@theresilientnurse has a beautiful Instagram feed that highlights and features nursing students' milestones! Follow them and you'll also get to see nursing items offered in their shop, with winners of giveaways being featured on their page.
Podcasts
https://www.instagram.com/tobi.talks/
You want the real tea on what it takes to be a nurse? Go follow @tobi.talks for her insists on the working in a nursing career and for updates on when new episodes of her podcast "A Nursing Guide for Millennials" are out.
Yoga
https://www.instagram.com/yogahealthnurse/
Health and fitness is such a great compliment to nursing and you can see it in @yogahealthnurse page. See what tips and tricks she has to offer by following her page and checking out her company Yoga Health LLC.