Experience the Best of Both Worlds: Nursing and Travel Combined with Voyage Healthcare
Have you ever dreamed of traveling to new and exciting places while also making a positive impact in people's lives? If so, then a career as a travel nurse may be just what you're looking for. And with Voyage Healthcare as your travel nursing agency, your career can reach new heights.
What is a Travel Nurse and What Does it Entail?
A travel nurse is a registered nurse who takes on temporary assignments in different healthcare facilities, nationwide. As a travel nurse, you have the opportunity to experience diverse cultures, practice your nursing skills in new environments, and make a difference in patients' lives every day.
What Makes Voyage Healthcare Stand Out Among Other Travel Nursing Agencies?
Voyage Healthcare is a leading provider of travel nursing opportunities, with assignments available across the country. What sets Voyage Healthcare apart from other travel nursing agencies is their team of dedicated and knowledgeable recruiters. They genuinely care about their nurses and will be with you every step of the way, from finding you assignments to negotiating salaries and benefits to providing ongoing support throughout your travels.
The Benefits of Joining the Voyage Healthcare Team
With Voyage Healthcare, you can expect competitive pay and comprehensive benefits, including insurance options, housing and travel allowances, and more. Their recruiters are always available to answer your questions and provide assistance whenever needed, and they have a wealth of knowledge and experience they're happy to share with their nurses. Additionally, each new assignment gives you the chance to work in a different healthcare setting, meet new people, and expand your nursing skills.
The Specialties Available with Voyage Healthcare
The travel nurse marketplace is diverse and constantly evolving, with nurses specializing in various fields to meet the unique needs of healthcare facilities across the country. According to industry data, the breakdown of the travel nurse marketplace by specialty is as follows: Medical-Surgical (MedSurg) nursing is the most common specialty, accounting for 40.5% of travel nurses. Intensive Care Unit (ICU) nursing follows closely behind at 25%, with Emergency Room (ER) nursing and Telemetry nursing coming in at 12.5% and 10%, respectively. Operating Room (OR) nursing and other specialties make up the remaining 12% of the marketplace. These numbers may fluctuate based on current trends and demands, but they provide a useful snapshot of the travel nurse marketplace and the diversity of specialties within it.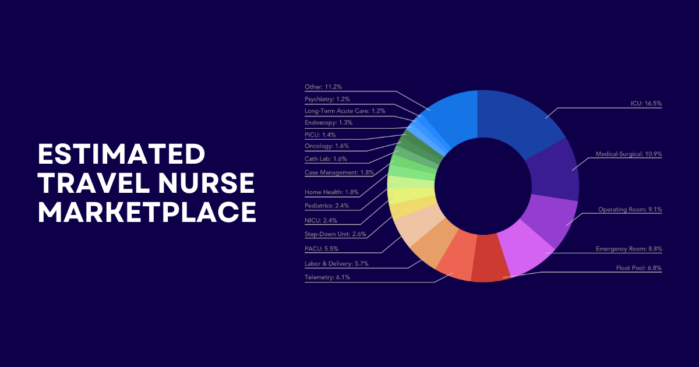 Voyage Healthcare offers travel nursing assignments in a variety of specialties, including:
Medical-Surgical (MedSurg) Nursing
MedSurg nursing involves caring for patients with a wide range of illnesses and injuries, from simple to complex conditions.
Progressive Care Unit (PCU) Nursing
PCU nursing involves caring for patients with complex medical conditions that require close monitoring, such as those with heart problems, respiratory issues, and neurological disorders.
Intensive Care Unit (ICU) Nursing
ICU nursing involves providing critical care for patients who are seriously ill or injured, often working with life-support equipment.
Telemetry Nursing
Telemetry nursing involves monitoring patients who have heart conditions, using specialized equipment to track their heart rate and rhythm.
Start Your Journey with Voyage Healthcare Today
So, why not join the Voyage Healthcare team and experience the best of both worlds as a travel nurse? Whether you're a seasoned nurse looking for a change or just starting your career, this exciting path is worth considering. With Voyage Healthcare's team of exceptional recruiters and their commitment to providing the best possible experience for their nurses, you can be confident that you're in good hands.
Don't forget to follow Voyage Healthcare on social media to stay up-to-date on the latest news and information about travel nursing and healthcare. You can find Voyage Healthcare on:
Facebook: https://www.facebook.com/VoyageHealth
Instagram: https://www.instagram.com/voyagehealthcare/
Twitter: https://twitter.com/Voyagetravel
LinkedIn: https://www.linkedin.com/company/voyage-healthcare/