Top 3 Travel Nurse Housing Websites for 2023
The demand for travel nursing is on the rise, which means finding suitable housing for your temporary stay is more important than ever. To ensure a comfortable and safe stay, we've researched and compiled a list of the three best travel nurse housing websites available in 2023.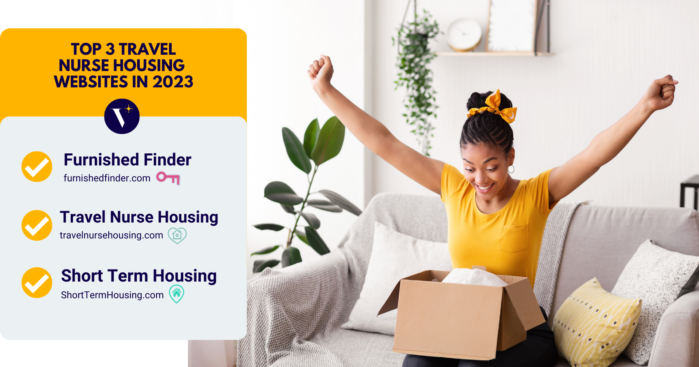 Furnished Finder is a highly recommended website that specializes in finding short-term housing for travel nurses and other healthcare professionals. With over 150,000 fully furnished properties nationwide, this site offers travelers the ability to rent by the month without commissions or booking fees.
One of the most valuable features of Furnished Finder is its travel nurse stipend calculator, which provides average rents and other useful information to help you estimate your housing costs before beginning a new assignment. Additionally, all property owners must pass a background check before posting a listing to ensure traveler safety.
Pros of Furnished Finder:
No fees to browse listings
Direct booking with property owners/managers eliminates extra costs
Android and iOS apps available for easier booking
Cons of Furnished Finder:
Accuracy of listings is not verified
User interface isn't completely intuitive
America Extended Stay America is a hotel chain that specializes in providing accommodations for several weeks or months at a time, making it a great option for travel nurses and other medical professionals. Pets are welcome, and parking is free and readily available.
One of the best reasons to use Extended Stay America to book your travel housing is the 10% discount it offers to healthcare professionals. Additionally, the chain provides additional perks through a loyalty program for stays over 30 days. Depending on your chosen location, you may have access to housekeeping services, continental breakfast, afternoon refreshments or other amenities.
Pros of Extended Stay America:
Access to WiFi, gyms, pools, spas, and other perks
Instant online booking with a secure payment portal
All locations are pet-friendly
Cons of Extended Stay America:
Hotel rooms don't offer the same level of privacy as individual apartments or homes
Hotel chains currently only available in 45 states
ShortTermHousing.com specializes in 30-day corporate housing rentals for traveling professionals, including healthcare workers. With more than 30,000 rentals in over 6,000 cities nationwide, the site offers a wide variety of options to fit any budget.
One of the most significant advantages of ShortTermHousing.com is the ability to work with a rental expert to find listings near major medical centers, which can make your commute more convenient. Users can browse properties by city or submit a housing request to get started.
Pros of ShortTermHousing.com:
Every rental includes utilities and furnishings
Listings near major medical centers
Specializes in corporate housing rentals
Cons of ShortTermHousing.com:
Must connect with one of the site's rental experts because you can't book a rental yourself
Rental request forms take extra time to complete due to several questions about your budget and housing preferences
Tips for Making Housing Arrangements
To make your travel nursing experience as smooth and stress-free as possible, we've compiled a list of tips to help you make housing arrangements:
Understand the costs of the travel nurse rentals you're comparing, including additional fees above rent and deposits.
Always research the area you're traveling to before committing to a rental to make sure it's a safe and convenient location.
Ask your travel nursing agency if they have any partnerships or discounts with housing providers to save money.
Reach out to other travel nurses in your network to see if they have any housing recommendations.
Watch out for rental scams and red flags, such as paying with cryptocurrency or a wire transfer, the property owner asking for payment to an overseas account, and not being able to access photos or videos of the rental.
Resources for Travel Nurses
To make your travel nursing experience even easier, here are some additional resources to consider:
In conclusion, there are various housing options for travel nurses, ranging from hotels to vacation rentals. Each option has its pros and cons, and it's crucial to consider factors such as location, price, safety, and convenience before making a decision. Furnished Finder, ShortTermHousing.com, and Extended Stay America are three of the best housing sites for travel nurses. Furnished Finder specializes in short-term housing for healthcare professionals and offers fully furnished properties nationwide. ShortTermHousing.com provides 30-day corporate housing rentals and has a rental expert who can help you find listings near major medical centers. Extended Stay America offers hotel accommodations for several weeks or months at a time and offers discounts for healthcare professionals. Overall, with proper research and planning, travel nurses can find comfortable and safe housing that meets their needs and budget.
Don't forget to follow Voyage Healthcare on social media to stay up-to-date on the latest news and information about travel nursing and healthcare. You can find Voyage Healthcare on:
Facebook: https://www.facebook.com/VoyageHealth
Instagram: https://www.instagram.com/voyagehealthcare/
Twitter: https://twitter.com/Voyagetravel
LinkedIn: https://www.linkedin.com/company/voyage-healthcare/
TikTok: https://www.tiktok.com/@voyagehealthcare
Know the Perks of Travel Nursing With Voyage Healthcare – Read More: www.voyagesolutions.com/blog/know-the-perks-of-travel-nursing/